Currently with a small queue! Commissions might take 1-2 weeks longer to deliver.
Reinapepiada's Commissions
Hi! You can use the buttons above to see the kinds of commissions I am offering at the moment.
Make sure to read my Terms of Service as well.

Commission status: OPEN
About

Mara, she/they, venezuelan in Chile.
Digital & pixel artist, writer, storyteller.

To request a commission, please send me a message through any of the sites below, or my email:
Pixel Commissions
Make sure to read everything pertaining to your interest, don't be afraid to ask questions and remember that if you want to commission me, you should send me the respective form! If you feel confused by anything, please let me know!

All the sprites I offer only come with a default blinking animation. Please refer to the list at the bottom for extra animations! They can be added to any type I offer!
Full Body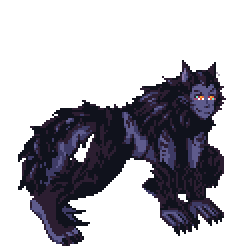 $35 each
complexity fees up to +$10

A fullbody sprite with a default blinking animation. Comes with a transparent background.

Optimized for movement! Best for multiple complex animations.
Form:
Visual reference:
Pose details and/or reference:
Extra animations: (y/n)
Size restrictions (can the sprite go over or under 100x100px): (y/n)
Extra details:
Email: (for invoicing)
Waist Up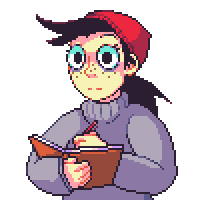 $27
complexity fees up to +$10

A waist up sprite of a character. Comes with a default blinking animation and a transparent background.

Add a dialog box for $5!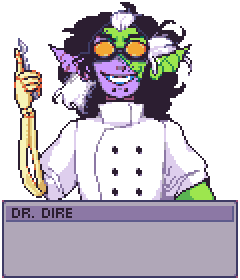 Form:
Visual reference:
Pose details and/or reference:
Extra animations: (optional)
Extra details: (optional)
Dialog and name: (optional)
Email: (for invoicing)
Headshot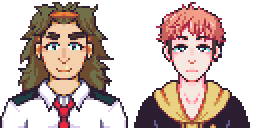 $15
complexity fees up to +$5

A 64x64 bust of a character. Comes with a default blinking animation and a white outline.

Can be cropped & resized to fit any social media icon!
Add additional expressions for 5$ each!
Form:
Visual reference:
Expression(s):
Background color:
Extra animations: (y/n)
Icon crop: (optional) (y/n and for what social media)
Email: (for invoicing)
Animations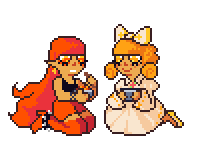 These can be added to any type of pixel commission, I offer simple animations and complex animations

You can choose multiple of these, they will stack accordingly.

If you're not sure if the animation you have in mind is simple or complex, I can give an estimate based on what you're looking for and your budget.
Simple animations
+$5 each
🔸Blinking (included and default in every sprite) (can also be requested with a double blink free of charge!)
🔸Expression change (most expressions)
🔸Shaking & twitching
🔸Smoke
🔸Fire
🔸Dripping, liquid
🔸Quick magic/elemental effects
🔸Levitating props and particles

Complex animations
+$10 each as a base price
🔸Hand, arm, leg, etc gestures
🔸Body movement
🔸Wind
🔸Attacking motions
🔸Levitating (fullbody)
🔸Jumping
🔸Character interaction
Examples
What to Expect
(when commissioning me)
i will send you a sketch preview before i charge you, then request half or full payment before i can continue with the piece. unless your piece is very complex (more than two characters interacting, specific objects, many details) then i'll ask for half or full payment before starting on the sketch. if your commission only gets to the sketch stage i'll show you a preview of it and request full payment before i can deliver it whole.i work with paypal invoices. that means i'm going to need your email to issue one. i also accept bitcoin if you're into that. for those in chile, i also accept clp.to finish a commission i usually take from a week or less to three weeks max. these times may change depending on my real life occupations. you will be informed if your piece will be put in a queue or if it will take longer than usual when i confirm to you that i'll take it.i am totally okay with providing with WIPs, especially in bigger pieces, as long as asked politely and within a humanly reasonable timespan.you will receive a sta.sh (deviantart) link with the contents of your commission in it. if you wish to receive an email instead, you can ask me to do so.
Terms of Service
it goes without saying, but you're not allowed to publicly share or edit the sketch previews i give you in any way. they're only meant for you to approve of the commission.
refunds will only be accepted 24 hours after paying the invoice and/or agreeing with the sketch preview, and you won't be allowed to use the commission in any form whatsoever, no matter if it was completed or not.
i will always ask you if you're okay with your commission being used as an example; 'being used as an example' means me posting it in my social media, portfolios or commission posts.
you're not allowed to profit off of any of my commissions or plagiarize them. you're of course super allowed to use them for personal purposes, and share them anywhere as long as you don't claim them as yours. credit is always appreciated. you're allowed to edit them too as long as it's not plagiarism or tracing or all that bad stuff.
if the prices are listed in the respective commission post i will assume you know of them when ordering. if the commission you're ordering may change on the complexity of the design, i'll confirm the total price with you. in any other case, you're super encouraged to ask about the total price when sending your form if you want to make sure.
i will only accept ONE structural change in the sketch phase and ONE color correction in the color phase (aside from human mistakes). any other changes will be charged extra.
Digital Commissions
Message me in any of my social media or email me with this form:

What you're commissioning: (ie colored bust sketch, or fullbody lineart, etc)
Visual reference(s) and short description:
Prompt: (basically what you want your commission to be about, be as detailed as you wish!)
Extra: (anything else, optional)
Email: (for invoicing)
Sketches
Bust - $15 (+$5 for color, +$8 add. character)Halfbody - $20 (+$8 for color, +$15 add. character)Fullbody - $38 (+$15 for color, +$20 add. character)
Will draw...
✔️OCs, FCs & Fanart
✔️Humanoids
✔️Monsters
✔️NSFW
✔️Horror, gore
✔️Complex designs
✔️Characters from written descriptions
Won't draw...
❌Anthro (flat faced anthros are a maybe)
❌Animals (you can ask about it though)
❌Hateful content etc.
Further Examples
🆕TTRPG chibis with dice
I'm offering TTRPG themed chibis with dice! Can be from any TTRPG that uses dice. They're simplified, flat colored and the dice can be any type and color!

Currently offering 5% discount on 4+ party (+NPC) orders!
Chibi w/ dice
Fullbody TTRPG chibi with a die behind them.

$25 per character
Max. 4 dice

Die is a solid color or swirl with a number or symbol on one face. Multiclass, attack, spell, etc dice can be added as well.
Further Examples
Run down
Any polyhedral dice (d20, d12, d10, d8, d6 or d4)Any TTRPGAny humanoid species (ask me about species with animal features such as tabaxi or centaurs!)NSFW, horror, gore OK
Have in mind
These will be simplified!I can work with photo+written references, the more you've got, the better it'll come outComplex designs &/or big props might be charged a fee! (up to $10)
Message me in any of my social media or email me with this form. bulk orders are OK! Feel free to ask for non-TTRPG characters as well, the sale is oriented at TTRPG characters because the price is the same with or without the dice. Ask me about other types of die that aren't listed! Chances are I can do them, they'll just be priced extra.

Please note that extra permissions might be required if you're requesting a personalized dice that exists IRL!

# of characters: ---
Visual/written/photo reference: ---
Pose details: (you can leave it up to me, but please include some info about your character to get an idea)
Class details & other: (for multiclass or attack dice or anything else!)
Dice: [d20/d12/d10/d8/d6/d4] [number/symbol] [solid/detailed] (you can provide photos or your own dice if you wish!)
Email: (for invoicing)